The other day, I was watching Gulaab Gang.
It was a lonely Friday afternoon in the office. Out of boredom, I had plugged in the ear-phones and was scouring through recent Bollywood movies on women that I hadn't watched already, when Gulaab Gang caught my attention. In such moments of pensiveness, the much cussed "F-word" (no, not the one that means sex) does wonders for me. So I tuned in.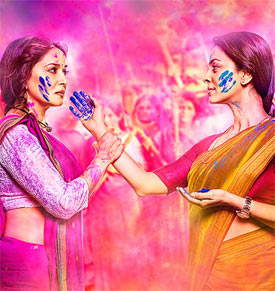 Set in a small, orthodox village named Madhavpur, Gulaab Gang is the story of Rajjo, a woman who is inflicted with a peculiar "disease" right from her childhood: she wants to study.  She is subjected to different kinds of torture by her evil stepmom, but nothing can stop her.
Years pass by. Now an adult Rajjo (Madhuri Dixit) has set up an Ashram, her own abode where she shelters distressed women and provides free education to little girls. Here, the inmates don pink (gulaabi in Hindi) saris and work as craftswomen for a living. Alongside, they are trained the art of self-defense to smack the hell out of wife-beating husbands and corrupt politicians. Rajjo is lovingly addressed as "Didi" by her girls, and together they are the Gulaab Gang.
The opening is quite interesting, to be honest. Heavily and unofficially inspired from real life heroine, Sampat Pal Devi and her "Gulaabi Gang", with absolutely no credits given to them, the obvious "women empowerment" mood of the film is set in from the very first shots.
Nari Shakti is a ghisa-pita theme in Bollywood, with the central plot mostly woven around good, unblemished women fighting evil, incorrigible humans of the masculine gender. Fortunately, director Soumik Sen avoids such clichés here. This is beautifully captured as some 30-40 mins into the film enters the negative lead, a woman named Sumitra Devi, the quintessential evil politician played by Juhi Chawla. Heartless, ruthless and family-less, this woman can do or say anything to anyone with a lopsided smile on her lips and zero remorse in her heart.
Some loopholes in the plot notwithstanding, the first 60 minutes of the film are absolutely fantastic and whistle-worthy – especially for feminist viewers. But after the one-hour mark, illogical and pretentious sub-plots creep in, and the entertainment factor gradually diminishes till it becomes non-existent. The plot becomes stale and gloomy, and the film sinks into the abyss in the same velocity with which it had dreamed of soaring high.
It does resurrect itself in the end though, as the brave and selfless Rajjo walks into prison with a smile, having succeeded in her mission of installing a good school for girls in the village. Even the prison walls cannot hold her back from the reformation of the patriarchal system. In jail, she dons her "Didi" avatar yet again, spreading education among illiterate female inmates. Director Soumik Sen deftly uses the end credits to let us know about some amazing but unknown women who are struggling each day to make life better for the women around them. A very novel concept.
As the movie ended, I was angry. How could a touching movie with such a novel concept escape the attention of so many people? But that was my sentiments speaking.
Bollywood isn't incapable of producing good films. However, since 90s, the Bombay industry has become quite handicapped in capturing realism, and more so, on female-centric films that specifically deal with sexism. When it comes to movies on Women Power, either they go all preachy with cheesy dialogues, dragging in Durga, Kali, Sita, Savitri and every other female from Hindu pantheon, or they transform the female protagonists into Mountain Ninjas. Gulaab Gang does the latter. Now, such OTT action might look good in Dabangg or Rohit Shetty's car-flying Golmaal, but in a movie that is trying to be realistic and authentic? Nope, not one bit. While some elements of Gulaab Gang are good, the movie never rises above from being a make-believe, masala potboiler of a director who meant well.
Every time Rajjo and her team cracks a case or punishes a perpetrator, they break out into song and dance in typical Bollywood style, disrupting the flow of the story. Divya Jagdale and Priyanka Bose are terrific, but it is the otherwise talented Madhuri who disappoints. She looks too "urban" for the role and lacks the raw countenance of a rural activist like Sampat Pal Devi.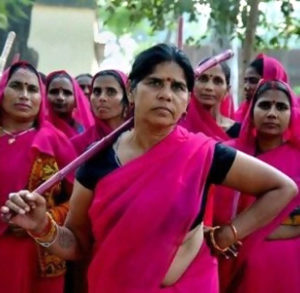 Despite the contrived rural accent, she looks nothing more than a glamorous "Didi" clad in pink, hand-loom saris, with perfectly set eye-liner and hair, who fights goons with an axe and occasionally indulges in Bollywood-style latkas and jhatkas. That brings me to the fight sequences.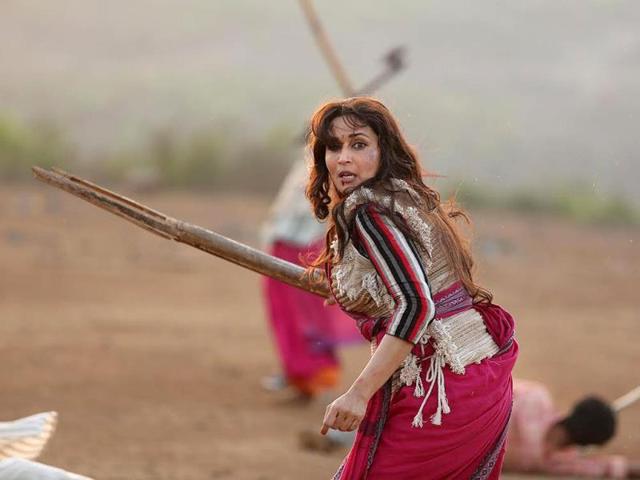 I love women fighters. But let's face it. Rajjo and her team are not cousins of Wonder Woman hailing from Amazonia tribe. They are plain humans and self-taught fighters with no professional training at all. Yet, somewhere in the middle of the movie, when the girls in pink confront a gang of rogues stealing cereals from the village store, the former begin exhibiting stunts and skills as though they have been trained by none other than Mutants of the First Class. Rajjo becomes Rajni (beloved Thalaiva), as she and her girls fell men double their size as well number in no time with mere bamboo sticks and axes. Worse still is the penultimate action sequence where Rajjo alone overpowers a dozen evil goons on her way from the city with nothing but an axe. This is where the movie detaches itself from reality and the much-trodden cliches set in.
Another "Women Empowerment" movie that comes to my mind at the moment is Mardaani.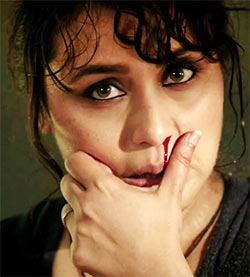 It is good film, except the last 15 minutes. When things were going just fine, director Pradeep Sarkar inserted an unnecessary one-to-one fight sequence between Rani Mukherjee and the kingpin played by Tahir Bhasin.  Preachy? Over the top? Make-believe? I am not sure, how to describe it. While the point of the director is good in the context of the plot, he loses the subtlety which makes such cinematic moments far more impactful than fancy dialogues like "Mard banke kitna uchhalta hain dikha!".
Pink too steps into the borderline preachy category, but escapes narrowly from being yet another clichéd case, thanks to the realistic female characters, superb performances and most of all – good direction.
Back in the 1990s, a couple of sleazy "Women Empowerment" films had been released. Raja Ki Aayegi Baraat and Mehendi, both starring Rani Mukherjee.  But that was the 90s. Being loud and OTT was in fashion back in those days. Remember the much-spoofed last court room scene of superhit movie, Damini?  Meenakshi Sheshadri's stunning performance had made it up, though.
But now, times are changing. Less is more. Smaller gestures make a bigger impact. Now, we need more movies like Lunch Box, Hindi Medium, Kapoor & Sons, Vicky Donor, Lootera, Kahaani, Masaan, English Vinglish, Nil Battey Sannata– alongside, of course, the entertainers – that would approach human emotions and social causes with a little more nuance, precision, and dexterity. Here, I'd like to mention that though not really a masterpiece, Lipstick Under My Burkha scores high on this front, as it explores women's sexuality and psyche without treading the moralistic road.