Direction: Akshay Roy
Cast: Ayushmaan Khurana, Parineeti Chopra, Aparajita Auddy, Rajatava Dutta
Rating : ***1/2
There are some movies that make us laugh. There are some that make us cry. And then, there are those, that neither tickle our funny bone nor induce our tears glands, but instead leave a heartwarming smile on our faces towards the end. Meri Pyaari Bindu is one such film.
Released in May this year under the Yash Raj banner, I had heard much about the movie from critics and viewers alike. While some of my friends gave rave reviews, others passed it off with a wry smile at being asked about it.  So, I thought, why not watch the movie and judge for myself? Thus, with a bowl of popcorn, a bottle of Coke and lots of expectation, I tuned in to Amazon Prime on a Friday night…
      Meri Pyaari Bindu opens up with a glimpse of everyday life at Shova Bazar, a well-known locality in the older parts of North Calcutta (now Kolkata). Rhythmic beats of Durga Puja dhaak in the background set the essence of Bengal, which is waiting for the commencement of its biggest carnival of the year. Against the festive background, a young man walks to the terrace, contemplating suicide, his pet dog being the only witness. A melodramatic voice over plays in the background. As we look on confused, we realize that the morose moment is but a scene from a novel in its making which the author is enacting in his mind with himself as the protagonist! The author (and speaker) is Abhimanyu Roy(Khurana), a demure, good-natured boy from Bengal.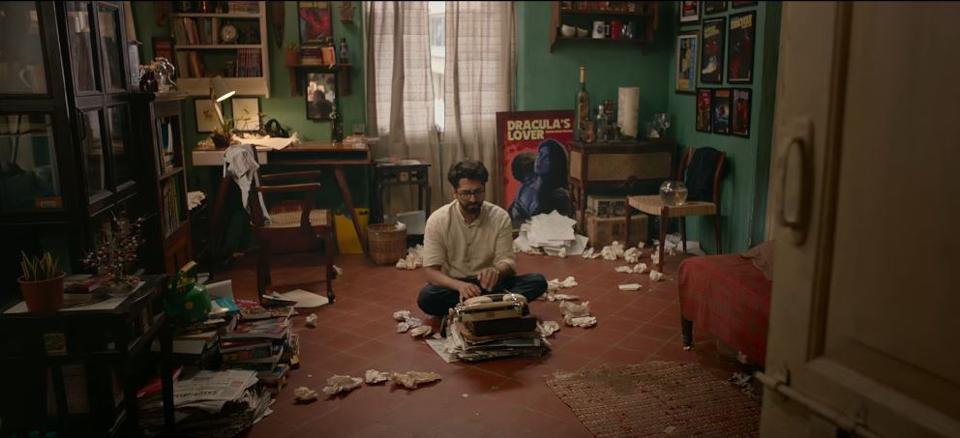 Image Source [No Copyright Infringement is intended.]
Abhimanyu is a Mumbai-based bestselling author with horror erotica like Churail ki Choli and Awara Dhoban to his credit. Praised and criticized alike for his objectifying works, he is hunted down nonetheless by publishers and agents to finish his next book. But, unfortunately, the much-sought-after author is going through a serious writer's block!  After churning out all the fluff, Abhi now wishes to write a love story. But writing a love story isn't a cakewalk afterall. 3 years have passed by since his last book, yet he can't come up with anything worthwhile. He types on furiously on his type-writer only to throw away the resultant work, all the while living on generous doses of cigarettes, whiskey and quirky combination of bread and ketchup!
Abhi's life takes a turn when he gets a call from his parents with a disturbing announcement of their divorce. He rushes back to his hometown. No points for guessing – his parents had fooled him. Typical blackmailing, Indian parents!
Friends and family greet an irritated Abhi back home with enthusiasm. But the hustle and bustle and, constant chatter leave him perturbed. Having stayed away from hometown for years,  he is not used to the clamour anymore.  He looks for solace in a silent corner, and   unexpectedly, stumbles upon an old mixed tape. And with that, begins the story.
The tape rolls, Abhi's memories come flooding in, and here comes Bindu Narayan Shankar (played by Parineeti Chopra). Bindu is a free-spirited, bubbly and fickle-minded girl with no fixed direction in life. She hops from one 'project' to another – be it job or boyfriend – till she  decides to be a singer.  Abhi's childhood crush, best friend, neighbor, college buddy, confidante – she is all thrown into one package. But most importantly, she is his one true love.
Deflecting the hullabaloo at home and his pushy publishing agent, Abhi sits down to write a novel. He has finally found a legit plot – a love story inspired by his own life.  As he begins to write, through his narration, we get to know Bindu  – or rather, the way he saw her and their equation.
As the narrative moves to and fro between past and present, the story of Abhi and Bindu unfurls. We see how they become friends in childhood, best friends later, and gradually step into an 'It's complicated' zone with each other. Abhi and Bindu, though bffs, are practically poles apart. He settles down with a corporate job. She continues to hop from singing to dubbing to singing again. He pines for stability, she is unsure of what she wants from life. He supports her through thick and thin like a true friend. She hooks up with him temporarily and then eventually dumps him for her fickle notions of life and fixation with uncertainty.
     Meri Pyaari Bindu starts off well. But the pace gradually slackens in the middle, and the plot loosens its grip between the time shifts and the erratic nature of Bindu. It is baffling that despite being such close friends,  Bindu and Abhi practically don't know each other at all! Director Akshay Roy tries to bring in that '80s' feel by using old songs of R.D. Burman and Bappi Lahiri. But they do little to instill nostalgia and instead, remain more like misfit props sticking out.
But this is not what bothered me the most. My main concern – perhaps as a Bengali – is the entire getup/wardrobe of Chopra as Bindu Narayan Shankar. Shova Bazar is one of the most culturally rich and orthodox areas of the city. Bindu's hot pants, streaked hair and off-shoulder clothes prominently stick out against the background of old Kolkata buildings, yellow taxis, and tanga rickshaws. It surprises me that director Akshay Roy – a Bengali – missed such a cardinal point. Another thing that appeared less believable is Bindu's aspiration of becoming a singer. While we are made aware of her dreams and desires, the idea is less perceptive from her actions and body-language, and more through the words of the protagonist. Perhaps, the director should have invested more scenes to depict Bindu learning classical music and practicing with Taanpura, guitar, etc to make her objective look more legit.
Rajatava Dutta and Aparajita Auddy are on point as Abhimanyu's eccentric Bengali parents. Kharaj Mukherjee plays a comic side role with his usual proficiency in the genre. Ayushmaan Khurana blends in effortlessly as a Bengali boy, speaking the native tongue with near-fluency. Parineeti Chopra looks ravishing (despite her misfitting wardrobe). She is undoubtedly one of the best actors in the younger brigade in Bollywood. But in this movie, something was missing. While her bubbly moments are lovely to watch, she fails to bring out the inner emotions of a lost soul in some of the intense moments.
Some scenes of small details deserve special mention. Rajatava Dutta asking the fishmonger, "Bada bada piece kaatna"  – this is exactly what happens in a Bengali household when the beloved son/daughter comes back home after a long time. Another scene is the one where Abhi's mother blows the conch shell at his homecoming.
The best part of Meri Pyaari Bindu, however, is its ending. It would be unfair to give out spoilers. But this much needs to be said – it is an unconventional closing. I wish to applaud the makers for deviating from the cliched Bollywood conclusions and opting for a less traversed path. The scene becomes all the more beautiful with the song, Maana Ke Hum Yaar Nahi. Sung beautifully by Sonu Nigam, and supported shakily by a novice Parineeti, the melody will stay with you for days.
There's a scene in the film, where a character asks, "Is there anything new to tell in a love story?"
Indeed. There is nothing much new in this case too, except for the beautiful, heartwarming ending that makes up for it.
Image Source for Preview Image