There are some movies that ought to be watched in private, sitting in your own room in front of your own laptop, with soft drinks, and popcorn to munch on. As unfair as it may seem to the makers, but that's how it is. Certain flicks appear absolutely mundane or outrageous in the company of hundreds in an air-conditioned theatre. And perhaps, require some solitude to be understood in its full depth. Wazir and Shaitan director Bejoy Nambiar's ambitious and experimental anthology Solo starring Dulquer Salmaan is one such case.
That might also explain the negative reception of the film. I hear that in some parts, "offended" viewers had even "booed" at the theatres. Such were the circumstances that the otherwise eulogized Dulquer (son of megastar Mammootty, and a star in his own right) had to resort to a sad note on his Facebook page to address the bullying. But what is all the fuss about?
Well, Solo is not your regular film. It is a four-part anthology, where each part – absolutely distinct from one another – depicts different facets of Lord Shiva (water, air, fire and earth) through symbolism and characterization. Each story begins with a salutation to the Lord in poetry with a magnificent Dulquer in the lead. The actor here plays four different roles, assuming different names of the God of Destruction.The first one is,
World of Shekhar: Water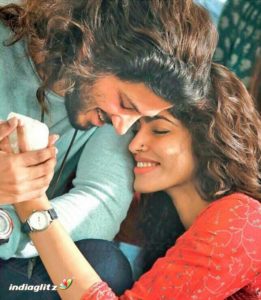 Shekhar (Dulquer with long, unflattering tresses) is a gutsy yet caring man with a speech defect, who falls in love with a blind girl named Radhika (Sai Dhanshika). Their relationship is rejected by their families, despite Radhika's pregnancy. How the two (or maybe one) cope(s) with circumstances forms the crux of the story. Though the plot is simple, a clever screenplay coupled with refreshing chemistry between Dulquer and Sai make it a decent watch. The beautiful symbolization of the Water through various visual elements is worthy of mention. Next is,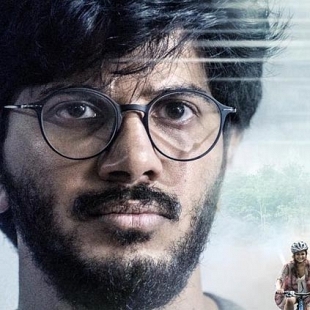 World of Trilok: Air
As Part 1 ends on a heartwarming note, the second installation begins and leads you to a darker world of a man who is out to avenge his wife's death. The story is neat and crisp, and maybe a bit too convenient for the protagonist, but a brilliant Dulquer in this nerdy avatar helps cover up the loopholes with his terrific performance. The only thing, however, that sticks out like a thorn is the lack of any plausible connection between the story/Trilok himself and "Air" element of Shiva. The writers try to symbolize "wind" through the fluttering hair and clothes of the heroine (Arthi Venkatesh) in her blink-and-you-miss scenes, but the connection seems forced. What works well for "Water", fails in case of "Air".
Then comes what is perhaps, the best and the most-written as well as well-enacted part of the film: "World of Shiva" depicting "Fire". Source for Below Image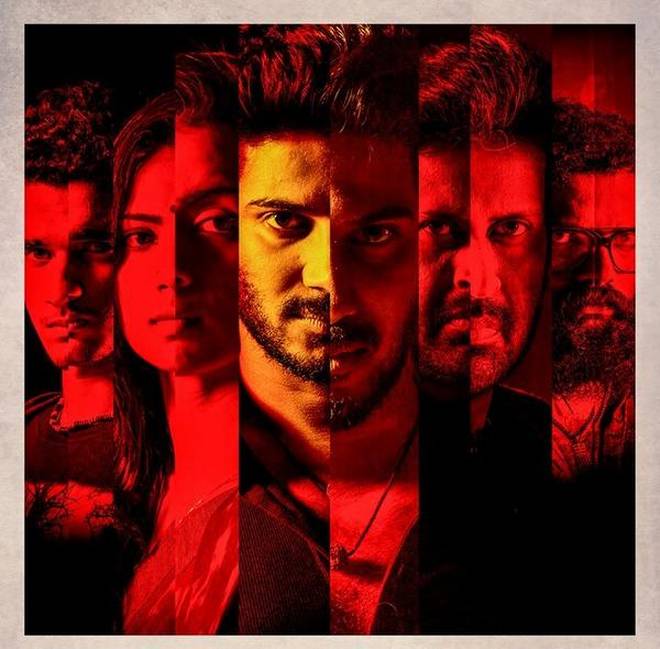 This is that part of the quartet where, despite the dark and dreary plotline, almost everything is pitch-perfect. Perhaps, this is the only section which could have easily been made into a standalone film. The element of "fire" is completely justified through the tumultuous life of Shiva (Dulquer), a ruthless gangster who is out to avenge his father's death. Shiva is the main assassin in his serial-killer gang. He is someone who drives a car and beats up people into pulp with the same stoic face. One would think that the man has no heart at all. But behind this apathy and emotionless exterior is a truckload of inner turmoil and pain of a human who was robbed off a healthy family life, and thus a healthy future by circumstances at a very tender age. At the very beginning, we are shown how, Shiva's mother had walked out of her abusive marriage tearfully, unwillingly leaving behind her sons (Shiva and baby brother Siddhu) with their ill-tempered, alcoholic father.
I have seen various gangster movies in India, and I can safely say that Dulquer's performance as Shiva is one of the finest, if not the best, that I have seen in this genre so far. He has played similar roles before, but none so convincingly as he does here. Watch out for the scene where he beats up a man with a stick in one hand, and cigarette in another. Or the one where he watches his father being shot in a CCTV footage with a stoic face, his eyes welling up very slowly. Equally good are the supporting actors, particularly Rohan Manoj as teen Siddhu and the women, Shruthi Hariraharan as Shiva's wife and Sai Tamhalkar as a Bombay gangster's foul-mouthed mistress, Sati.
One of the most beautiful scenes in the entire span of 2 hours comes in this part of the movie between a weeping Siddhu and a consoling Sati, when the former loses a dear one. It is poignant to see how a motherless boy finds momentary maternal affection from the most (seemingly) un-motherly female character, reminding us that maternal instinct is perhaps intrinsic to the fairer sex. One underrated part of the movie is the steamy, sizzling chemistry between Dulquer and co-star Shruthi in their brief moments, making me wish they had more screen space together. Source for below image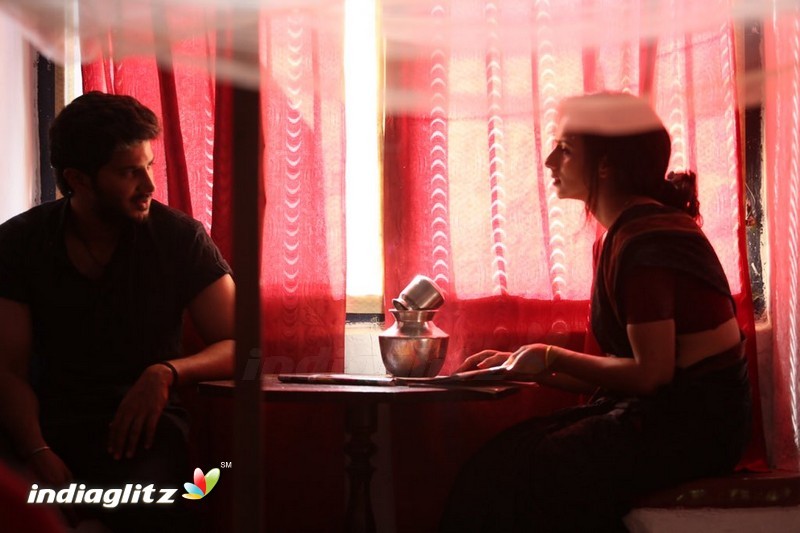 Part 3 of Solo has the most touching scenes and the coolest shots (watch out for the long shot where Siddhu is running away to get his vengeance). But the best part is left for the end, when after avenging his family's death, Siddhu is confronted with the most shocking truth of his life. The closing shot switches between a distraught, adolescent Siddhu running away from the murder scene and his younger, happier self on a long, lost Diwali, when his family of four were together. And happy. The beautifully shot moment, accentuated by soul-stirring background score will make you tear up, and also wonder, how many lives would have been spared if Shiva and Siddhu's father had been a better man. How many families and bright young minds have been destroyed similarly by vices of a few adults!
Source for below Image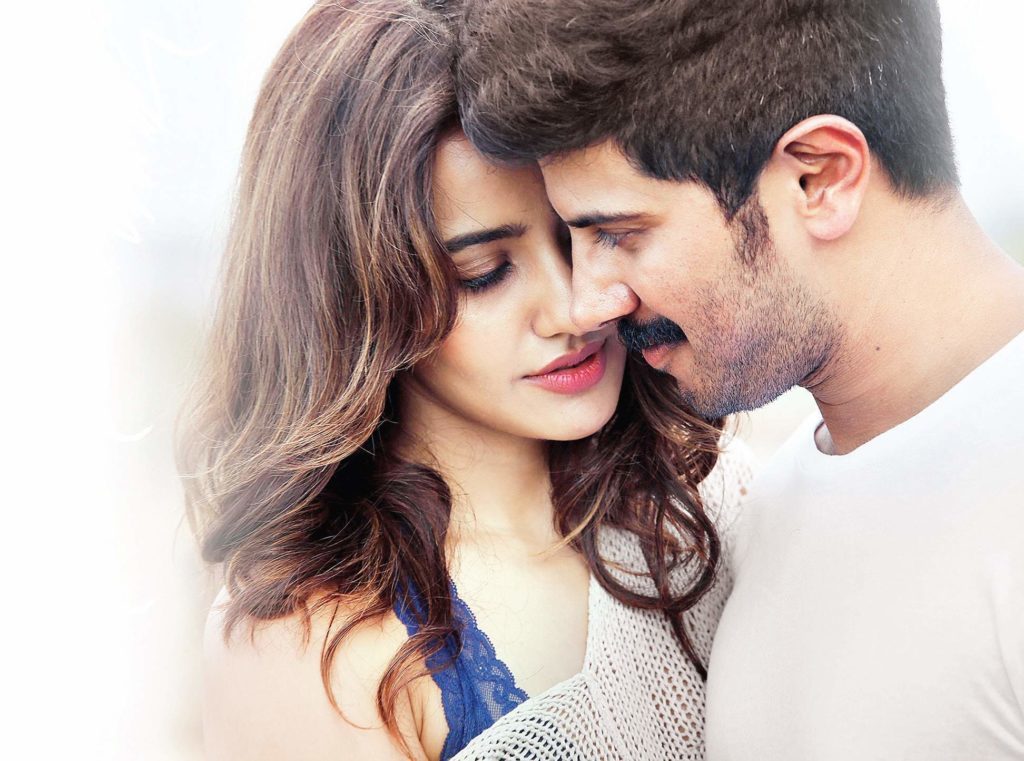 The last one is the "World of Rudra" representing "Earth", and undoubtedly the most disappointing of the four stories. Rudra is an army officer, in love with a girl named Akshara (Bhama in Tamil version), played by a pretty and vivacious Neha Sharma. But the two lovers are soon torn apart, owing to an ugly secret, which is also the main reason behind all the "booing" and trashing of the film by the audience and critics alike. Personally, my pet peeve is less with this "secret" and more with the treatment of the story. Dulquer and Neha share great chemistry and everything looks visually stunning. Background score and songs like Sita Kalyanam deserve special mention. But all of that falls flat because of poor dialogue delivery of some actors, stupid, cliched fight scenes and typical Bollywoodish romance. Dulquer, however, doesn't disappoint one bit, especially in the scene where the ugly truth is revealed.
Final Verdict:
While I absolutely loved watching the film (except some parts), somewhere the concept of "Shiva and his various facets" was lost in translation. Or was perhaps, not needed at all. This is because, even though the stories depict four distinct lead characters, there is a common thread apart from actor Dulquer, running through them all, and that common thread isn't really their connection with Lord Shiva. Rather, it is their loneliness, which is why the name "Solo". Overall, I'd give Solo 3.5 out of 5 stars, especially because of Bejoy's courage and vision, Trilok's mysterious nature, "World of Shiva", the brilliant background scores, Sita Kalyanam, and of course, Dulquer Salmaan.
**I do not own any of the images. The sources of the images have been provided in links. For Image 2, go here. For the Preview image, go to Image Source here**